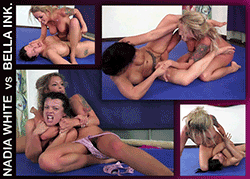 WE 086 - NADIA WHITE VS BELLA INK
NUDE COMPETITIVE FEMALE WRESTLING.

Beautiful Brunette, Nadia White vs Sexy Blonde Dancer, Bell Ink face each other in a Competitive Nude Wrestling Match! During the introduction of the match, both sexy bikini clad women seem very serious and ready to get started. They are on the mats and mean business! Bella precipitates the fight and Nadia is not too happy about it! The fight is fast moving and tough. Bella is extremely vocal. Is this to distract her opponent or to calm her own nerves? Hard to decipher. Perhaps a bit of both. Bikini tops start to come off and Bella takes the opportunity for some quick boob smothering! Nadia seems less than pleased. She is out to win this match and Bella's antics and non stop verbal taunting drives her nuts. Caught in a front triangle, Nadia is close to tapping but she escapes. The fighting is intense from both sides!hard! Chokes! Boob grabbing! Scissors! Both of these sexy fighters are stubborn, neither wanting to submit! Their breathing is heavy and the sweat is streaming off their incredibly fit bodies even before their bottoms come off! Fighting with your bikini bottoms half off can't be easy! It can really trip you up but they continue to go at each other with fierceness! Another choke hold ends in a tap and after a water break they face off and go at each other again! Bella starts in with her verbal assault, seriously annoying Nadia. It's distracting Nadia who ends up in a near triangle but she fights her way out! Nadia knows her stuff and she has a very good defense. Bella seems to be assaulting Nadia's pussy with the heel of her foot as Nadia has trapped Bella's foot between her thighs. Another choke hold. Nadia works hard to resist it! Bella seems amused but Nadia is not in the least! The fight is intense and gets slippery wet with sweat! There is no doubt that both women hate to lose but there is one loser and one winner!

30 Minutes - MP4 - 1920 x 1080 - 1.2 GB - USD 29.99