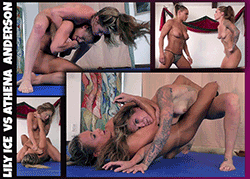 WE 087 - LILY ICE VS ATHENA ANDERSON
NUDE COMPETITIVE FEMALE WRESTLING

Whatever you do, DO NOT MISS this OUTSTANDING match between Athena Anderson XXX vs Lilly Ice in an Extreme Competitive Nude Wrestling match! Yes, Athena is a newcomer to wrestling and she comes in a petite package, 5'3 110 pounds but she is a real LIVE WIRE! Don't let her pint size fool you! This little gal is an athlete who does NOT want to lose! She also comes with a huge attitude as she faces her bigger, more muscular and extremely sexy opponent, Lilly Ice! Lilly's athletic body is perfection with 8 pack abs to boot! Lilly is 5'4 135 pounds and she doesn't seem amused by her smaller opponent's attitude! Both looking scalding HOT in their sparkling bikinis, they go at each other, fast and furious! This is truly an amazing match in which both opponents give 100% effort throughout. The bikinis come off soon enough, which will send your body temperature skyrocketing! Although Lilly has more experience on the mat, the little firecracker, Athena, makes up for it with her incredible effort and desire to win! Head Locks, Body Scissors, Choke Holds! Choke/Body Scissor Combos! The intensity is insane! In the first half of the match, one submission is gained. But there is no slowing down for these two ego driven wild cats! Athena is a trash talker and Lilly is irritated by her smaller opponent's nasty mouth! She does her best to shut the wiry little beast up, but the harder Lilly fights, the wilder Athena gets! At 15 minutes, the score is 1-1 and the fight blasts on! Just when it looks like one of these sexy gals is gassing out, and a 2nd submission is gained, she comes back with an excellent head scissor which appears to be inescapable! But the wild woman who's caught in the scissor, battles her way out. Would I venture so far as to say, one of these ferocious, sexy women is as reckless as an untamed feral cat? YES! But the match is a sweaty savage brawl that will leave you wanting more! There is a winner but the match is incredibly close. The raging fierce orgasms that follow will blow your mind! Lilly's Ice melts as these two have the hottest back and forth pussy eating party, sensual tribbing and unstoppable orgasms working up into one big frantic raging explosion! You'll be exploding, too, as you watch these gorgeous athletes go at it! I guarantee you'll be begging me to bring them both back for more!

28 Minutes - MP4 - 1920 x 1080 - 1.2 GB - USD 29.99