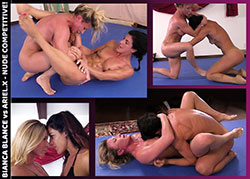 WE 085 - NUDE COMPETITIVE FEM/FEM
BIANCA BLANCE VS ARIEL.X


Italian Beauty Bianca Blance 5í7Ē 138 lbs vs American Stunner Ariel X

5í3Ē 125 lbs in this incomparable match that everyone has been waiting for! Bianca was very nervous before the match.

Iíve no doubt Ariel was too but she hid it well. Both stepped onto the mat in sexy bikinis that definitely did not hide any of their perfectly slim yet muscular physiques.

You will feel like youíve gone to heaven just looking at those chiseled abdominals as these perfect females stand side by side, ready to go at each other in a 100% competitive nude match! The hair tying took a little time, but soon they hooked up for the take down!

Fast and furious from the get go!

Ariel in control at first and then some fumbling to get off the bikinis!

Once naked the real fighting begins! The two gorgeous wrestlers are equally strong.

In fact, Ariel has Bianca in guard for quite awhile but Bianca blocks every attempt Ariel makes for a submission hold.

The sweat is dripping at 9 minutes, where we take a break because of a bumped nose.

Once we got that taken care of the match resumes!

Things get very exciting as Ariel and Bianca go for the takedown.

Every attempt for control in the takedown is blocked and finally the two somehow make it to their knees. The incredible power of Biancaís core is an amazing defense to Arielís continued assault on Bianca.

Ariel rides the Italian goddess, their muscles rippling and the sound of their breath practically in synch as the fighters persist, each having the same goal!

To win!

Itís Ariel who is making all he attemptsÖarm bars, triangles, arm locks but Bianca defends and that defense is unbelievable! Ariel is not able to gain a submission.

The frustration on her face says it all!

The sweat glistening on these perfect bodies may add to the beauty but itís hell when you are trying to get a grip on each other!

The endurance of both these fighters is outstanding. The fight is on fire and these two give 100% effort, to the point of exhaustion all the way to the end!

Bianca breaks out and is on the attack and it looks like Ariel might be in trouble!

Bianca is hard wired to take pain! This gal seems to be able to withstand everything that Ariel throws at her.

Intense body to body combat that doesnít slow down even as we near the end!

Itís unbelievable! Just when you think itís over, there is a clear winner! BAM! Score 1-0!

And it doesnít stop here.

The winner goes on to sexually/sensually dominate the loser and it is just WOW! A thing of beauty is an understatement!

Two hotter women have never existed and now one of them is using the otherís sweaty destroyed body for her own sexual enjoyment and her desire escalates even further as she writhes all over the loser, turning her on against her will.

This is steaming HOT! Soon the desire is mutual! After such a fierce passionate brawl, the two stunning women succumb to each other, inhale each other, and practically eat each other alive. Each feeds off the fierce sexuality of the other!

The camera is long forgotten as these two hot fighters take each other in as many ways as possible! Pussy to Pussy, Mouth to Pussy! With wild intensity and in every way possible! Sweaty, Wet, Hot! The orgasms are fervent, ferocious and real!

This is one match you will NOT forget!

Youíll be levitating at the end wishing you are on the mats with these heavenly creatures!

WOW WOW WOW!!!

35 Minutes - MP4 - 1920 x 1080 - 1.5 GB - USD 39.99