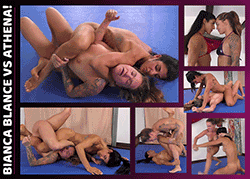 WE 089 - BIANCA BLANCE VS ATHENA ANDERSON
NUDE COMPETITIVE WRESTLING.

Well this match was insane to put it mildly! Insanely GOOD! Insanely WILD! Insanely on FIRE! This is Athena's third match for and I chose her because she is a Fire Cracker and I needed someone who is wildly enthusiastic on the mats to face an Incredible yet Savage athlete like Bianca Blance, the Italian Stallionesse! The match is 20 minutes of pure unbridled intensity! Bianca's Scissors would crush the ribs of almost anyone and unfortunately for Athena she ended up between those powerful thighs, way too many times! But the smaller wrestler kept getting up and going at the Italian beauty wanting her revenge! The bodies of these two women are breathtaking. They are Unbelievably Sculpted Beauties! The tiny bikinis come off very early in the match and we are left watching two extraordinarily gorgeous fit naked women, giving everything in their power to win. Body Scissors Galore! A lot of groaning, heavy breathing, gasping for air and even screams of pain and frustration. Oh and there is lots of trash talking and swearing, too! The sheer determination on the part of Athena to carry on fighting is beyond admirable. Bianca loves winning and she loves taunting her opponents and she taunts to the point of cruelty! Athena tells Bianca on several occasions, I FUCKING HATE YOU. Nevertheless, she FIGHTS ON! When these two feral beauties trash talk, they mean every word they say! Just when you think this match should be slowing down, it gains ferocious momentum! Athena is determined and she attacks and attacks and attacks! Bianca does not let her guard down as this little opponent can be dangerous if she gets the right position! This is a fight! Very unlike the match between Bianca and Ariel, this is all out war! Bianca wants to take her seat upon Athena's face after one of the falls but the ref tells Bianca, you have to let her up between the falls! The sweat is dripping off both beautiful nude bodies as they struggle to suppress their opponent! This is an absolutely outstanding match! You will love both the winner and the loser because they gave 100% of themselves. Pure Wild Female vs Female Nude Fighting to the end! Wow!!! Trust me, the loser will be back with a vengeance! But not before she is further dominated and humiliated by the winner. The winner gloats as she continues to shame the loser, using her gloriously sweaty naked body and cutting words to do so...

21 Minutes - MP4 - 1920 x 1080 - 925 MB - USD 24.99