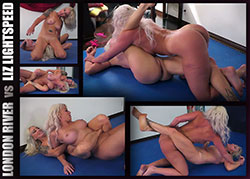 WE 083 - LONDON RIVER vs LIZ LIGHTSPEED
NUDE COMPETITIVE FEMALE WRESTLING

Two Gorgeous Platinum Blondes face each other on the wrestling mats in a wrestling only (non jujitsu style and no catfighting) match! London River states her height as 5'7and her weight as 145. She's done wrestling for other companies and is ready to show off her wrestling knowledge in this match against the more experienced wrestler, Liz Lightspeed, who states her height as 5'8 and weight at 130 lbs. As the two fighters are gearing up to start, Liz tells London that her bikini doesn't cover anything, which prompts London to just strip it off! Liz is surprised but she rises to the challenge! They go at it in their birthday suits and immediately Liz is surprised by London's strength! Although not incredibly skilled, she has the basics down very well and is very defensive! Her strength and stamina are excellent and she is strong like a bull! Liz is frustrated from the beginning as London is not an easy opponent. This was a little unexpected and makes Liz work hard at gaining any advantage! It turns out to be a very scrappy fight! A little trash talking goes on as each sexy naked woman tries her best to gain submissions.15 minutes into the match, the score is 2-1 and the fight becomes more fierce, with the opponent lagging in points, fighting even more intensely! Soon the score is 2-2! Lots of Boob Smothers, Grapevine Pins, Triangles, Split Pins! Lots of pussy shots in this one! And a lot of sexy ASS! These girls are not shy! Both opponents are very impressive at their attempts to defeat! But frustration is growing on both sides! Sweat is flowing! The HOT girls are glowing! A final Bottoms Up Match Box Pin is gained by the winner!The final score is 4-2! The winner now has 5 minutes to humiliate the loser and she chooses to use her sexy ASS to Smother and it is Scorching Hot! The loser's face here is gloriously dominated by a Very Sweaty Ass and Pussy!The humiliation is real! What an amazing match by two incredibly fit women! WOW!

29 Minutes - MP4 - 1920 x 1080 - 1.3 GB - USD 29.99